---
Meeting Facilitation
"Working with Ramsee Consulting Group has been a joy.  Rick Robinson, the managing director, has designed and facilitated several working sessions for me, and the quality and productivity of those sessions has been amazing.  The key skills he brings to the table are his ability to:

Design a meeting structure that meets stated objectives/outcomes
Guide a diverse group of egos and individuals through a process effectively and efficiently
Listen to the differing viewpoints, find the common ground
Synthesize our thinking, and craft clear and compelling messaging that everyone can support
Develop effective tools and processes that achieve our desired results

I cannot recommend Rick and Ramsee Consulting highly enough!"

Maxine Mann, President, Teknion US
---
Why use a meeting facilitator?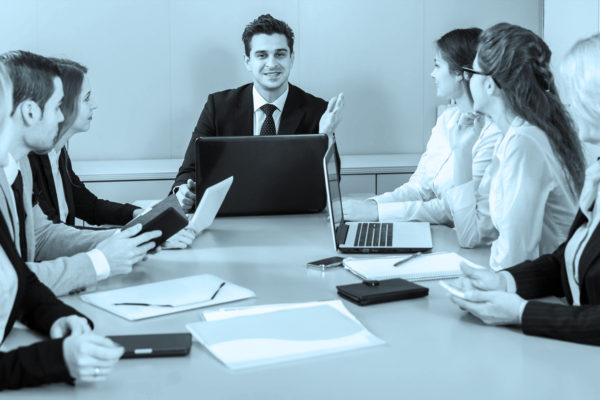 You are an expert at what you do, but odds are there are some things you don't know. With the average 10-person leadership meeting costing more than $15,000 (not including opportunity costs), it is imperative not to waste the time and money.  Our clients tell us that they use a meeting facilitator to:
Enable everyone to fully participate without having to lead or guide the meeting
Use an outsiders perspective to help get past entrenched thinking
Design a meeting that achieves the critical outcomes
Clarify and summarize the thinking of the group without bias
Develop the tools, communications, messages and frameworks necessary to implement the policy decisions reached in the meeting
Make the best use of their time. They don't have the time to think through and research the best ways to achieve a desired result
---
When to use a meeting facilitator?
You don't need a facilitator for every meeting.  That would be silly and a waste of resources.  However, here are some situations where it would be helpful to use a facilitator to design, develop and run your meeting.
You have a general idea that you need to go in a different direction, but you are not sure what you need to accomplish and/or how to go about accomplishing it (lack of clarity of the goal of the meeting)
You need to run a meeting of executive-level leaders addressing a sensitive issue
You are the senior leader and you need to participate in the meeting
You are the senior leader and your people tend to agree with you on most issues when you run the meeting
You need to do some strategic or long-range planning
You are stuck on a particular issue and keep "agreeing to disagree" without making progress
You have a large number of people that need to participate in the meeting, and you are tired of "herding cats"
---